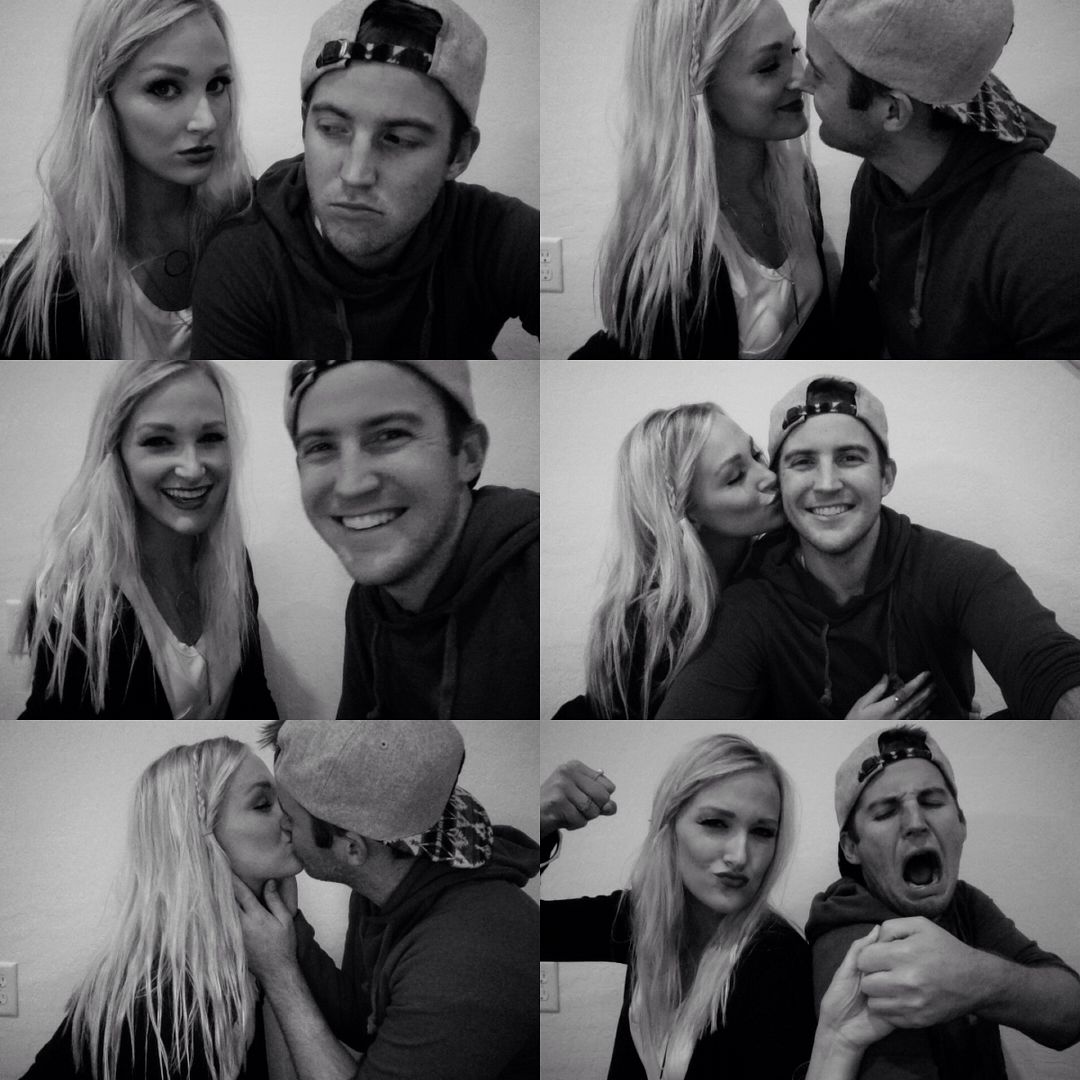 Today Jake and I are celebrating our 3rd wedding anniversary! It's cliché, but time really does fly and I'm sitting here reminiscing and slightly panicking because I want it all to slow down a little. It's been almost five years since the day we met. We talked for a couple of hours that night and he was so subtle about his interest that I was shocked when he wanted my number. Long story short, I was convinced we would never be anything but friends, he wanted more than that, so he stayed around, as my friend, for nine months. Five months into that I had moved to Los Angeles and he finally moved back to Las Vegas, barely missing me (I think he moved back the day after I moved to California). Interestingly enough, we started talking a lot more when I moved. It got to the point where I looked forward to his texts every morning and jokes during the day. One of my best friends Brynn who was also my roommate at the time would always say, "Are you sure you're not into him?" and I would say, "I'm SURE. It would never work."
During that summer that I lived in Los Angeles I drove across the country with my mom to help my brother move. The entire 5 day road-trip, I played games with Jake on my phone (mom was driving ;)
). I remember my mom saying, "You don't play words with friends all day with a boy you're not in love with!" I would brush it off, but after that trip things started to change. I think I started to become more aware of my feelings that already existed more than anything else. Jake would sometimes let some sweetness slip through our friendly banter and one night I remember saying to myself, "Are you the biggest idiot of all time? This guy is amazing." After my trip, Brynn picked me up from the airport and I said, "So.. I'm in love with Jake."
"I KNEW it!," she wasn't surprised.
I went to Song writing school that summer and the only thing I could write about was Jake. My old notebook from class is chock-full of lyrics that have everything to do with him. It's fun to look through now and realize how consumed I was by thoughts of him even when I didn't realize it.
After I was sure of my feelings, I didn't say anything, but my tone changed, and he knew at that point that I had finally come around. Shortly after that I moved back home to Las Vegas to finish my last year of college, and after a picnic spilling our feelings , Jake said, "I waited a long time for this!" and we knew we didn't want anyone else.
So that explanation was long even though I left out most details, but fast forward through calling Jake boyfriend, to fiancé, to now, my husband of three years! We've come a long way. I love him so much more than I did then. It's amazing how comfortable you can be in your flaws when you love and trust someone that never acknowledges them. Jake is always kind, always encouraging, always forgiving, and always gives the benefit of the doubt not just to me but to everyone else around him. He makes my life simply happy and full of peace. He is a peacemaker by nature and I will never take that for granted.
I've never had more fun in my life than I've had in the past three years. I've never laughed more. There have been so many moments when we are in a group of people that Jake will whisper something funny in my ear and we will have to try to keep from laughing. When we were on our cruise last year, our friends staying in the room next to us said, "We would hear Jake mumble something, and then hear Sarah's loud laugh." What was actually happening was Jake was saying hilarious pick up lines to me from across the room in different accents while I was getting ready for dinner. I'm so glad we have the same quirky sense of humor, because life would be really boring if we didn't.
Anyway, there is clearly too much to even say, but I love this day and what it represents. I love what we've experienced so far and am grateful for a forever partner that gets me completely. Now time to celebrate!
p.s. I recently organized all the photos in my photo bucket account. I was feeling super accomplished until I looked at my blog and realized that it messed up almost every single post. I don't have a ton on here, but it's still going to take most of my free time in the next few weeks to fix. so that's why it looks a little weird around here. womp womp.